SOMETHING SWEET
If ever there was a starring season for fruit, summer is it. Farmer's markets?are overflowing with ripe cherries, berries, melons, peaches, and plums – all bursting with juicy sweetness! It?s surprising?that when it comes to nutrition, fruit can be divisive: There are people who deny themselves the pleasure for fear of ingesting too?much sugar.And there are also those at the other end of the spectrum who eat nothing BUT fruit (these people are called Fruitarians). In this newsletter, we?ll unpeel how to healthily enjoy summer?s stars.
Should you cut out fruit?
No way! You definitely don?t need to ban fruit from your diet altogether. When you consume fruit, you are indeed?consuming fructose. But you are also getting?potassium, fiber, vitamins, minerals, enzymes, beneficial antioxidants, and phytonutrients along with the fructose.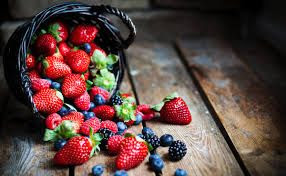 These?help?mitigate the negative metabolic effects (e.g.,?sugar spikes) of fructose. This is why it isn't good?to eat a lot of candy or other foods high in fructose – they don't contain fiber and all the other great things that help your body process sugar!
However, if you suffer with health issues such as insulin resistance, metabolic syndrome, heart disease, obesity, or cancer, you?ll want to moderate your total daily fructose consumption (from all sources).
If you are not insulin resistant, you can?and should!?enjoy at least 3?4 servings per day of fruit. When selecting fruit to eat, the best choices are fruits with a lower glycemic load. A glycemic load of 20 or more is considered high; 11?19 is considered average, and less than 11 is low. Here are some good choices:
Apples, pears
Blackberries, blueberries, cherries, raspberries, strawberries
Grapefruit (pink), oranges
Grapes (red)
Nectarines, peaches, plums
Pomegranates
Watermelon
The glycemic load?as opposed to the glycemic?index?of a fruit more accurately represents how you will metabolize that fruit as it takes into account the portion sizes. Watermelon is a great example of a fruit that is known to have a high glycemic index, but in reality, the glycemic load is much lower because the fruit is dense with water. For more information on glycemic load, click here.
In honor of summer, enjoy the?delicious, quick recipe ?that celebrates the sweet flavors of the season.
Are you ready for your summer Transformation?
In my 14-Day Back-to-Basics Transformation, you?ll shed habits that bring you down and emerge feeling as energetic as the summer season itself. We?ll incorporate lots of easy lifestyle tips to get you on track for the remaining weeks of the summer season.
During this 2-week experience, you?ll receive 1:1 support from me as well as a wellness bag of nutritional products and superfoods to help you along with way.
Will you join us? Sign up here.
Click here for full podcast playlist.