Just WALK??and get a better workout in half the time with a TreadClimber??cardio machine:
Burn up to 40% more calories than a stair?climber
Get an intense cardio workout that's easy on?your joints
Burn up to three and a half times the calories of treadmill at the same speed!
THE BENEFITS OF 3 WORKOUTS IN 1.
The newly redesigned Bowflex??TreadClimber??machines combine the motions of a treadmill, a stair climber and an elliptical for an easy, low-impact workout with high-impact results. Innovative G.O. Coach? technology helps you set, track and attain your fitness goals with ease. This 3-in-1 walking workout will tone your core, glutes, thighs and more in every workout!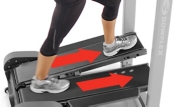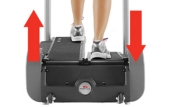 Cardio training on the Bowflex??TreadClimber??machine will not only help you lose weight, it can also help:
Increase your energy level and make it easier to get through your day.
Increase your bone density and reduce your risk of osteoporosis.
Increase HDLs (the "good" cholesterol) and reduce your risk of heart?disease.
Reduce back pain.
Increase your metabolism, reduce body fat and make you leaner!
CLICK FOR SUMMER SAVINGS ON BOWFLEX TREADCLIMBERS
Click here for full podcast playlist.