About
Athletic training is practiced by Certified Athletic Trainers, health care professionals who collaborate with physicians to optimize activity and participation of patients. Athletic training encompasses the prevention, elevation, and intervention of emergency, acute, and chronic medical conditions involving impairment, functional limitations, and disabilities. Click here for more information.
If your organization is in need of an Athletic Trainer, please click here:?Athletic Training Coverage Application
An Athletico Certified Athletic Trainer (AT) is an allied health professional who holds, at minimum, a bachelor?s degree from an accredited college or university and has fulfilled the requirements for certification established by the National Athletic Trainers? Association Board of Certification (NATABOC). In addition, he or she has passed the certification examination administered by the NATABOC and has met all requirements to maintain certification. Only after successfully completing the certification examination are athletic trainers entitled to use the designation ?ATC.? In addition to the certification designated by the NATABOC, all Athletico Athletic Trainers are licensed professionals in their state of employment and as required by law.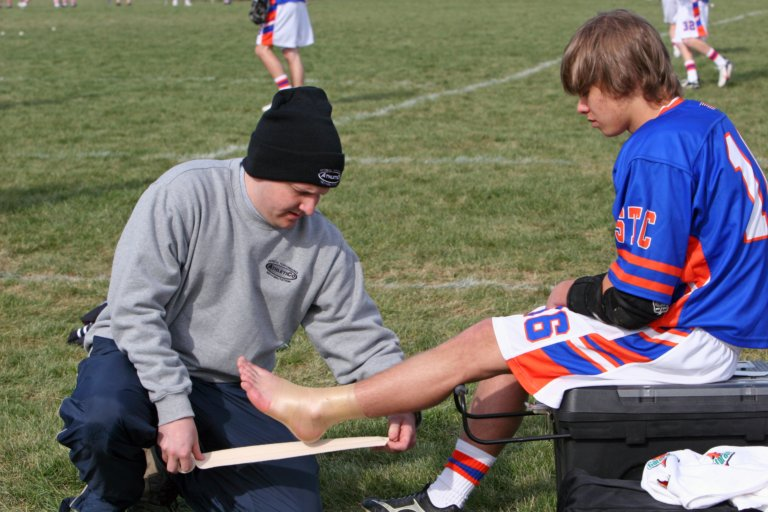 Athletico Certified Athletic Trainers are highly skilled and educated health professionals who work under the direction of physicians to provide optimal health care for student-athletes. With a bachelor?s or post-graduate degree in athletic training, health, physical education or exercise science, the AT has an extensive background in human anatomy, human physiology, biomechanics and exercise physiology. In addition, he or she is trained in the recognition, rehabilitation, treatment and management of injuries, as well as in nutritional and psychological counseling. Athletico ATs are well prepared to apply skills for the prevention of injury, to provide care for an acute injury, and to manage rehabilitation after an injury. In addition to requirements for certification, many states have laws regulating the practice of athletic training. Based on these qualifications, the certified athletic trainer, other than a physician, is the most qualified individual to deal with secondary school athletic injuries on a daily basis.
Administrators, coaches, parents and physicians who have had the opportunity to work
with Athletico Certified Athletic Trainers appreciate the increased communication that has been provided. Coaches and administrators are confident that a licensed professional is present with knowledge of injury management ? not only for emergency situations, but also to make an objective evaluation of the athlete?s health status prior to his or her return to play. Physicians and parents appreciate the fact that this licensed professional is associated with the school and/or district and will have contact with the injured athlete on a daily basis. The physician is also more comfortable knowing that the Athletico AT will make sure that his or her directions are followed in both the athletic training room and rehabilitative clinical settings. Parents are reassured that an allied health professional is looking out for the best interests of the health and safety of their son/daughter on a daily basis.
What is the Educational Background of an Athletico Certified Athletic Trainer?
An Athletico AT has an undergraduate degree specific to Athletic Training and is board certified and state licensed. Many of our Athletic Trainers look to advance their knowledge base with additional degrees and certifications such as Masters Degree, Performance Enhancement Certifications and Rehabilitation Certifications such as Active Release Technique and Graston Certified.
Athletico Certified Athletic Trainers are required to be proficient in the following domains:
Injury/Illness Prevention and Wellness Protection
Clinical Evaluation and Diagnosis
Immediate and Emergency Care
Treatment and Rehabilitation
Organizational and Professional Health and Well-being
Click here for full podcast playlist.